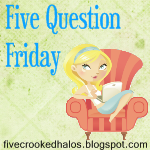 I was not in the mood today because I found out that theirs people got mad with my article the other day about the processing of my visa, well first of all I'm sorry if some of you got upset, it doesn't mean that I was talking about you, I was talking about it in General, I did research and I read a lot of stories of people who got their visa already, and I was just telling the truth, why take it personally? I didn't mean harm to anybody.
Again the topic is about the processing of my Visa, not about a certain person or people. Okay enough of my ranting here heheh, Hope you guys a good weekend ahead. God Bless to all of you...
1. I
f you could change one thing about yourself what would it be?
Hmmm, I think its about me being honest all the time, and maybe sometimes its good to lie, cuz people take it the wrong way when your being honest gosh. They think your being too proud!
2.
Write about a time when you got lost.
3. C
amping or 5 star hotel?
I have already experienced camping when I was in grade school, so to make it exciting, maybe stay in a 5 star hotel.
4. H
ave you donated blood?
Yes I did before long time ago, to a newly born baby who is sick, but He died,and I was the one who notice when the baby turn purple and his guardian was not paying attention, that was scary.
5. D
o you have a budget or do you 'fly by' most months?
I do my best to have a budget every months, but I ended up spending more than the budget gosh, its so hard sticking to a budget I think its impossible.
Tweet