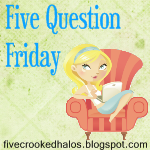 Welcome to Five Question Friday! Let's get this party started!
Rules for Five Question Friday: Copy and paste the following questions to your blog post, answer them, then watch for the linky to appear on Friday morning and LINK UP! Oh, andhaving fun is a MUST!
Questions for Friday, May 19th: (Special thanks to @joleneslavik, @ThisDaddys_Blog,@deannajw, Christine, and Sandy for their question suggestions! I would love to link YOU in a future 5QF, so just c'mon over to my community to offer up your best question suggestions, or just watch for my Twitter shout out for questions and @5crookedhalos me using hashtag #5QF!)
Hello my dear readers, How are you doing? Me I am good but a lil' sad because my husband just leave to work in Alaska for 3-4 months, and that means 3 months of no skyping and no text that's so sad, but I'm just gonna think that his working and its for our future and hopefully in August when he get back, We will get our NOA2 (visa application got approved by USCIS). So in case anyone will wonder its me again who is writing and not my husband, so just forgive my poor english its called carabao english lol. Have a good weekend you guys Xoxo!!!
1. Do you and your spouse go to bed at the same time?
I always stay up late or sometimes I'm still up playing games in the computer.
2. A question for the ladies...What kind of facial hair do you like on your man?
I think as long as the mustache is not that thick its okay with me.
3. What's the worst vacation you've ever taken?
It was last year when my husband just came from the states, We stayed for 2 days in a beautiful beach but we did not really enjoy it because I was sick that time. And my husband just arrived from the states so his still have a jetlag.
4. What's the first-ever blog you followed?
Gosh I can't remember lol.
5. Do you enjoy amusement parks?
I never experience it yet, but I would love to try it in the near future.
Tweet