Hello Guys, How are you? I hate the weather lately, its been raining for weeks now, hopelly it will stop soon we don't want any flashfloods again! I hope God will hear our prayers and stop the rain, were kinda sick of it already...So anyway this is my entry for five question friday.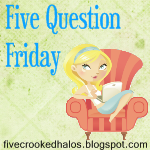 Questions for Friday, June 24
th
:
(Special thanks to
Sandy
,
Sharayha
,
Pam
,
dosweatthesmallstuff
, and
@my4redheads
for their question suggestions! I love to link people in #5
QF
, so if YOU would like to be linked, head on over to
my community
to offer up your best question
suggetions
, or shout 'em out to me on Twitter. [Remember to
@5
crookedhalos
me and use
hashtag
#5
QF
]).
1. If you had the opportunity to bungee jump, would you?
I think I would as long as its safe...
2.
Would you rather go to the movie theater or to the drive-in?
Yeah I rather go to the movie theather...
3. Do you have your groceries delivered?
We don't have like that in the Philippines, we always have to go to the mall and do our shopping or groceries...
4. Eyebrows:
Do you wax, thread, pluck, or stay
au
naturel
?
I had experience threading it was very painful, I always pluck mine.
5. W
ould
the people you went to high school with be
surpri
sed
by your life today?
Yes, They are, they didn't expect that I would marry a foreigner ;D
Tweet