It's been years since I remember the first TGI Friday's opening where I lived and I remember the excitement around the opening like it was yesterday. We had all heard about TGI Friday's before and now we were finally able to go to one. Well hold on to your hats because Friday's just got a whole lot better! Introducing the new T.G.I. FRiDAY'S "Entrées for One" based on their most popular dishes that you've known and loved at the restaurant for years.
I was very happy to get the chance to review one of these new entree's because I have enjoyed the good food and fun of going to the restaurant for years. I chose the Sizzling Chicken Fajitas because I enjoy good southwestern cuisine. Although I had many other choices all equally as appealing from the box graphics, I had my heart set on some chicken fajitas so away we went. I was impressed with the ease of preparation, simply microwave the tray for 2 mins, peel back the plastic and stir, then heat 2 mins more. The box said heat the tortilla wraps 45 seconds but I stopped it at 30 because they were done, the difference coming from microwave wattages.
I was very Impressed with the amount of filling for the Fajitas, and they give you a side dish as well, in this case a Tex-Mex Rice you can see below: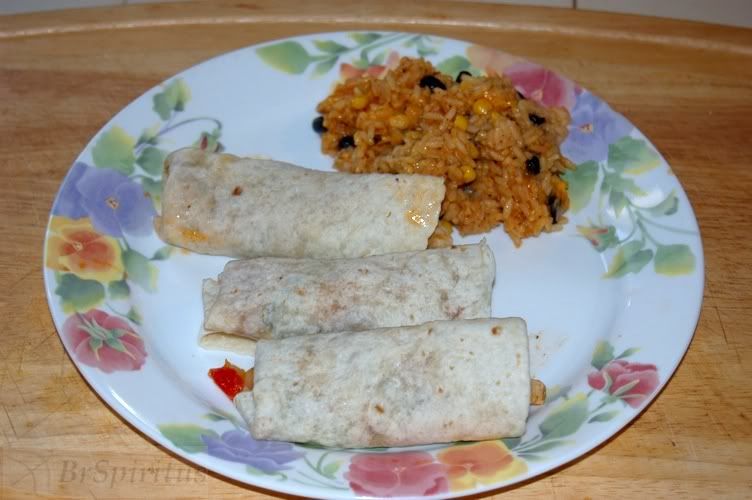 The final presentation, as you can see, fills the plate rather well. The taste was what I have come to expect from Friday's foods, spiced well but balanced with the flavor of the entree itself. The Rice was extremely tasty being flavored with black beans, corn and cheese.
TGI Friday's is also having a Fun Freezer contest. To Enter, decorate your freezer at home with your own fun flair and take a picture. Upload the picture to the TGI Friday Facebook page and get a chance to win cool prizes including a home theater makeover.
Tweet