Questions for Friday, December 2nd (speaking of December, who stole my November?!): (Special thanks to Sandy, Sharayha, @emilywickham, @trooppetrie and Lorilynne for their question suggestions! I would love to link you in a future 5QF, so come on over to my community or watch for my Thursday afternoon shout out for questions on Twitter and offer up your best question suggestions! Remember to @5crookedhalos me and use hashtag #5QF if you go the Twitter route!)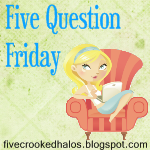 1. What is your favorite Christmas decoration in your house?
Well we didn't start decorating the house yet, I dunno why, well its not our house, its the house of my father in law. :)
2. Do you finish your Christmas shopping early or are you a last minute type?
My first time to spend Christmas overhere in the U.S., I dunno if I'm gonna be excited or not, but one thing for sure I'm gonna miss all the fun in the Philippines when its Christmas, especially the simbang gabi (midnight mass), but I maybe we're gonna do the last minute shopping, no money right now huhuh.
3. When do you turn on your heat?
I think my father in law already did.
4. Do you ever wish your blog was private?
I wish it was sometimes, but its not gonna be fun if its private right?
5. Do you put your deodorant on before of after you put on your shirt?
I usually put deodorant after taking a bath. :)
Tweet