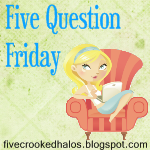 Questions for Friday, January 20t
h
: (Special thanks to
@Lovely_Lici
,
@
trooppetrie
,
@lifeafterplacin
,
@my4redheads
, and vacationed out me for their question suggestions! I would love to link you in a future 5
QF
, so come on over to my
community
or watch for my Thursday afternoon shout out for questions on Twitter and offer up your best question suggestions! Remember to
@5
crookedhalos
me and use
hashtag
#5
QF
if you go the Twitter route!)
1
.
Where do you hide the reeeally good snacks?
We don't have kids yet, so its okay if we put in the pantry or in the fridge. :)
2. D
o u keep your vehicle clean or am I the only one who has things falling out of their van?
I don't have a car yet but If I have one I will surely make it clean and not messy.
3. H
ave you ever been to Vegas?
Not yet, What's in Vegas beside Casino that would make me go there? heheh just joking.
4.
Warm room light blankets or cold room warm snuggly blanket?
Our room is kinda cold but we have some snuggly blanket too, so its still comfortable, and we live in Jacksonville FL so its not that bad though sometimes I feel like I'm going crazy because its too cold for me. lol
5. What is the worst airplane/flying experience you've ever had?
Oh my I have my worst and unforgettable experience also when it comes to flying. It was last November when I was still in the Philippines going home from Manila, my flight was delayed two times so we were waiting for 5 hrs. plus it was raining so hard too so the pilot was so fast to land I feel like were really gonna crashed, its not helping this girl in my back keep talking about plane crashing I was gonna smack her lol. And from that time I said to myself If ever I go back to the Philippines I'm not gonna fly with Cebu Pacific anymore.
Tweet