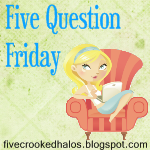 Questions for Friday, February 10th (It's my anniversary!!): (Special thanks to Keely (@Keely1978) from Mannland5, Sandy (@PardonMyDust) from Pardon my Dust, Erin (@emenchho1) from The Life and Times of E1, Gasfamily (@gasfamily) from The Gas Family, and Pam (@trooppetrie) from Troop Petrie for their question suggestions! I would love to link you in a future 5QF, so come on over to my community or watch for my Thursday afternoon shout out for questions on Twitter and offer up your best question suggestions! Remember to @5crookedhalos me and use hashtag #5QF if you go the Twitter route!)
1. How often do you shave your legs in the winter?
Its my first winter right now, I think the same when I'm still in
the Philippines, every two weeks.
2. Valentine's Day cards for your spouse: funny or romantic?
For me I think its romantic, but for my husband he thinks its
just a waste of time, I used to send him greetings card before
everytime his out of the country or even when his with me but
he can't appreciate it LOL, I think its a guy thing.
3. What are you most looking forward to about spring?
To tell you the truth, I don't know I'm still a newcomer
from this country, and I'm still adjusting especially when it
comes to the wheather.
4. What's your favorite way to pamper yourself?
When I was still in the Philippines, I always go to the parlor
to have a foot spa and pedicure, sometimes if I have extra
money I will go to the massage parlor or acupuncturist to
have my acupuncture. But overhere I can't afford it, maybe
if I have a job then I would go to the parlor but maybe just once a
year hahah!
5. Does your tax return go into savings or do you spend it instantly?
I don't have tax return, but my husband has, and we plan to pay our debts,
bills and if save some of it.
Tweet