Wow I can't believe its March already! I was thinking time fly so fast over here in the US, or Its just maybe because I was bored in the Philippines, oh wait I am also bored overhere LOL. I can't wait for summer because were going to Alaska not to have a vacation but to work. I am kind of excited and scared also, excited because I really want to see Alaska, I know it is so beautiful over there, scared because I don't know what its like to work over there but at least my husband is gonna be with me so I'm not worried, I'm just not looking forward to the flying and turbulence again gosh. Okay here is my entry for 5 Question Friday this week... Have Fun and Have a great weekend everyone!!!♥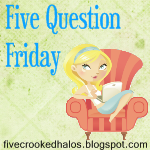 1.
Where is your favorite vacation spot and why?
Beach in Davao City Philippines
Well we didn't experience to have a vacation yet, since I arrived here in the US, but in the we we're still in the Philippines we usually go in the Pearl Farm beach resort for a short vacation. I like there because the island is so beautiful and the beach is pristine though I can't swim but my husband really love it over there. We also go to beach just near in the place we live, its a 30 minute ferry ride, its called Paradise Island. We like it there because the beach is beautiful, the water is not that deep compare to Pearl farm and you can see a lot of coral reefs even in the shallow. It is also cheaper than Pearl Farm

.
Its buying cosmetics, everytime we go out and I see something new or sale in the mall I can't really help myself not to buy. I love buying eyeshadow, lipstick, just make up stuff. I remember when I was still working that time in the Philippines before I meet my husband, I end up spending almost all of my salary just buying some make up stuff lol.
3.
What is your favorite fashion trend right now? Or, in the past?
Before I love wearing boots, because it will make me look taller hahah. Right now I don't care if I wear any high heels, I love wearing flats shoes or anything that I am comfortable wearing.
4. W
hat are your spring break plans?
I really don't know, Its the first spring break for me so I don't have any idea what should we supposed to do when its spring break. But maybe if I can find a job that would be good lol.
5.
What baby names do you hate?
Hmm I hate names that old, so old you can't even pronounce it right or you never heard of it before.
Tweet